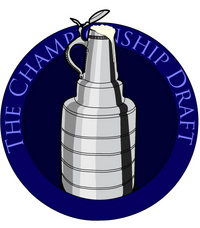 The Championship Draft is the trophy awarded to the winning team of each season. It was designed by smurfinablender, who also creates a custom image for each team that wins it.
The following is a list of each team that has won the Championship Draft.
Team:
Mongooses
GM: Avaholic03
A33 (Assistant GM)
alexander27
AvaholicReborn
Trunkins
barmishmar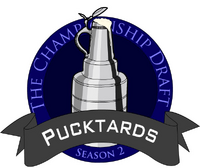 Team:
Pucktards
GM: hejdukrocks
cody275 (Assistant GM)
IceCold14 (Captain)
smurfinablender (Assistant Captain)
Archimedes
hockeykid8 [aka: PhoenixAvsFan] (traded from Prime#s, Week 8)
leaf_fan (traded from Prime#s, Week 8)
Danesakic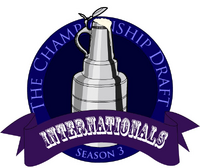 Team:
Internationals
GM: AvsJen
rusavsfan (Assistant GM)
klozge (Captain)
svatty (Asstaint Captain)
caw9000
Barney_Sumner [aka: stpatty; Javris]
punkdud13 (inactive)
Team:
GM:
Community content is available under
CC-BY-SA
unless otherwise noted.