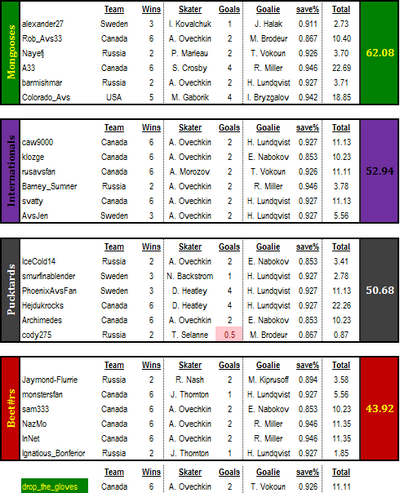 The Olympic Game was an experimental period for the BDL which followed the ice hockey competition in the 2010 Winter Olympics in Vancouver, BC. The Olympic Game differed from normal competition in several ways. Firstly, it lasted the entire two weeks of the Olympic Winter Games hockey tournament. Secondly, it did not involve head-to-head matchups between team, but instead featured a free-for-all style. The highest scoring team recieved 5 points in the standings, while the next highest scoring teams recieved 3, 1 and 0 points respectively.
How to Play
Unlike typical weeks in the BDL, teams did not attempt to pick which team they thought would score the most number of goals. Intead, they picked one team, one skater and one goalie to follow. They recieved points based on how many wins their team had, how many goals their skater scored and the save% of their goalie. The formula for total points was:
SCORE = (Team Wins) x (Skater Goals) x (Goalie save%)

The default value for each was 0.5, since any value of zero would cause the Total Score to be zero as well. This detail only affected cody275, who's skater Teemu Selanne failed to score a goal in the tournament.

The total of the six individual scores were added up to get a team score. Points were awarded in the BDL standings based on where a team finished in the Olympic Game. 1st place recieved 5 points, 2nd place recieved 3 points, 3rd place recieved 1 pont and 4th place recieved 0 points.
Impact on the BDL
The Olympic Game had very little effect on the Season 3 standings. The 5 points earned by the Mongooses allowed them to pass the Pucktards for 3rd place overall in the standings. But no hypothetical scenario could have stopped the Internationals from winning the Championship Draft since they held the tiebreaker (+/-) over the Beeters.
Overall, the game served only as a fill-in during the two weeks the NHL had off during the Olympic Winter Games. It remains unclear if NHL players will be allowed to compete in the 2014 Winter Games in Sochi, Russia. Therefore, another similar game is unlikely in the future of the BDL. However, the expanded format of picking a team, a skater and a goalie does pave the way for a similar game during the NHL Playoffs or other hockey tournament in the future.
Notes
drop_the_gloves was benched for the Olympic week by GM A33. His score did not count towards his team's total.
leaf_fan (Pucktards) chose not to participate in the Olympic Game and was benched by default
BloodyRomance (Beeters) was inactive and was benched by default
The average score among all players was 8.83
The highest score belonged to A33, at 22.69
The lowest score belonged to cody275 at 0.87