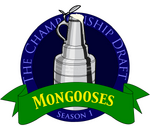 Season 1 took place from October 4 to November 14, 2009, lasting six weeks. The success of Season 1 can be attributed to the lessons learned from the
Trial Season
. It took place after the league
reset
and the resulting
draft
. As this was the first official season of the BDL, the teams that participated are known as the
Original 4
.
Several rule changes were made following the league reset. The league began following the NHL exclusively, which increased the accessibility of the game to the Avalanche message board community. The restrictions on picks were removed, so any player could pick any team each week. Also, the downsizing to only four teams allowed for every team to participate each week, rather than having the bye weeks associated with an odd number of teams.
Season 1 also saw the debut of the holy grail of the BDL: the Championship Draft. The trophy was created by smurfinablender, and is awarded to the championship team each season.

The Mongooses captured the first ever Championship Draft, finishing Season 1 with a 4-2-0 record. Their losses both came against the 2nd place Pucktards, including one in the final week fo the season. However, they had built an insurmountable lead by that point, and could not be caught. The season also featured the first and only tie in the history of the BDL. The stalemate between the Pucktards and Prime#s in Week 4 of the season prompted a rule change in later seasons which prevented ties. Despite scoring more points than any other team, the Internationals were unlucky throughout the season and finished in last place.
Individual Statistics
Edit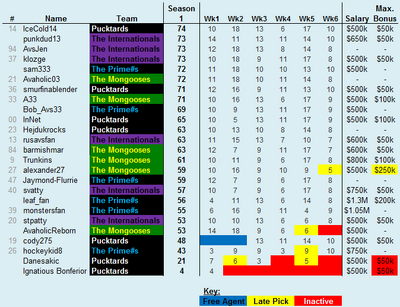 Individual Statistics can be found in the table at the right. IceCold14 captured the scoring title, while three Internationals players tied for second place. Cody275 was signed after Week 2 by the Pucktards to help with their problems with inactivity and late picks.
NOTES:
hockeykid8 became PhoenixAvsFan
Bob_Avs33 become Rob_Avs33
stpatty became Barney_Sumner, and later, Javris
Other Details
Edit
The weekly scores, financial reports and other details can be found at the following link
Community content is available under
CC-BY-SA
unless otherwise noted.