We're Getting Mutants in the MCU - The Loop
Play Sound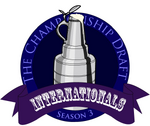 Season 3 started immediately after Season 2 ended, running from January 25 to April 11, 2010 and spanning nine regular weeks. Also included in the season was the Olympic Game, which followed the ice hockey competition in the 2010 Winter Olympics, and ran from February 14 to March 1.
Along with the one-time addition of the Olympic Game, the other major rule change for Season 3 was the addition of invisible picks. Due to popular demand in Season 2, the league created a method where players could make hidden picks that were only visible to their team and commissioner Avaholic03. The picks remained hidden until the start of the week, so as to prevent opposing teams from "blocking" picks.
All of the Original 4 teams returned to compete in Season 3. However, the team formerly known as the Prime#s had been re-named the Beet#rs, and would be eventually named Beeters. This was the final season to follow the 2009-10 NHL season, and also the final season with only four BDL teams. Before Season 4 could begin, the league would undergo expansion.
Summary
[
]

The Internationals, for the third consecutive season, led the league in scoring. However, this time they were finally rewarded with their first ever Championship Draft. They dominated the competition, going 7-2-0-0 and beating the 2nd place Beeters by 8 points in the standings. The Pucktards followed in the Mongooses footsteps from the previous season by finishing in last place while defending their Season 2 championship. Compared to Season 2, this season was relatively calm and uneventful. The biggest stories were a trade, along with the temporary addition of the Olympic Game to the BDL schedule.
At the end of Week 2, new Beeters GM sam333 had a disagreement with Rob_Avs33. In order to avoid repeating the drama of the previous season, she quickly traded him away to the Mongooses in exchange for BloodyRomance.

The Olympic Game was an experimental side-game with the goal of keepin the league active during the two-week Olympic break. Each player picked a team, a skater and a goalie to follow during the tournament, and earned points for how their picks performed. The Mongooses won the Olympic Game, earning five bonus points in the standings. The Internationals, Pucktards and Beet#rs earned 3, 1 and 0 points respectively for their performance during the Olympics.
Individual Statistics
[
]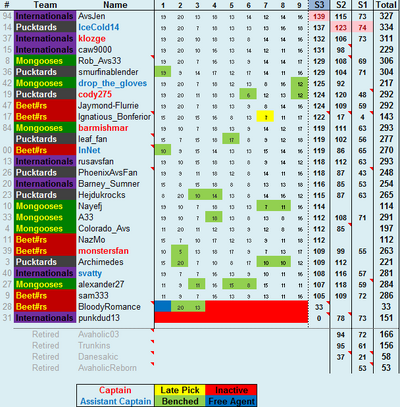 Individual Statistics can be found in the table at the right. Internationals GM AvsJen upset IceCold14's bid for a 3rd consecutive scoring title by holding onto a 2-point lead. Although a few new rookies joined the league, that was balanced out by the retirement of three veterans, so overall the league stayed steady.
NOTES:
Barney_Sumner became Javris
Other Details
[
]
The weekly scores (including the Olympic Game summary), financial reports and other details can be found at the following link