The Trial Season was the initial iteration of the BDL game. It was flawed in a number of ways, but through it valuable lessons were learned and applied to the following seasons. There were five teams involved in the Trial Season of the BDL. The Pucktards is the only team that still exists in its original form. However, three of the other teams live on in some form or another. Team AvsJen returned immediately after the league reset as the Internationals. Team sam333 was disbanded for two seasons until sam333 took over for JaymondFlurrie as GM of the Prime#s and re-branded the team as the Beeters. The Fighting Pineapples were disbanded for three season before being reincarnated during league expansion. The only team that does not still exist in any form was Team BlueAndBurgundy26, which finished the Trial Season without a win, and with all but two of its players disappearing from the boards entirely.
Summary
[
]

Despite a large amount of inactivity, and a few poor decisions about rules that made the game less fun than it could have been, overall the Trial Season was a positive learning experience. The lessons learned made it possible to refine the game after the league reset.
The Pucktards ended the season undefeated, winning the championship. The Fighting Pineapples and Team AvsJen had strong showings, but were ultimately beat by inactivity and late picks. Team sam333 and Team BlueAndBurgundy26 struggled badly with inactivity and failed to impress.
Individual Statistics
[
]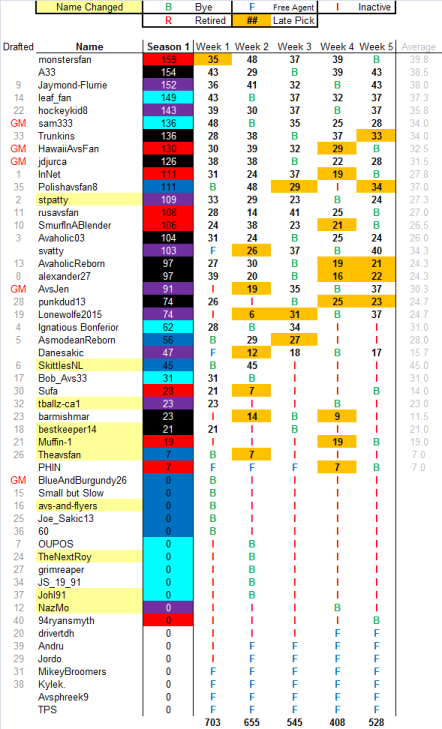 Individual Statistics can be found in the table at the right. Several of the top individual scorers, including monstersfan, A33 and svatty, were undrafted players who were signed as free agents later in the season.
NOTES:
hockeykid8 became PhoenixAvsFan
Bob_Avs33 become Rob_Avs33
stpatty became Barney_Sumner, and later, Javris
Other Details
[
]
Anais originally was to draft a 6th team for the draft and though very active up until the draft, she disappeared right as the draft began. Everyone waited four days for her to return before her "team" was abandoned and the draft finished without her. Perhaps the problem of the bye-week would not have occured had she not disappeared and the BDL had an even six teams.
The weekly scores, financial reports and other details can be found at the following link